A research project on Gender Equality in
Science, Technology and Innovation in dialogues with third countries
"We are seeing an unprecedented amount of international cooperation in science as researchers around the world partner together to find effective treatments and vaccines for covid-19. During these critical times, it is important to ensure that women are given opportunities to participate in this international research and identify the barriers that might prevent them from doing so".
"Although there shouldn't been a difference between men and women when it comes to participation in STI projects, it is true that in our society women still have responsibilities related to family care that are not well addressed by governments and legislation. Given that, we think that with the covid-19 outbreak this situation gets worse due to the closure of daycare centres or the need to be available to take care of family members, including children. In any case, we think that society is changing on this matter, with greater inclusion of men in family care, but there is still more to do in terms of legislation."
María Fernanda Cabrera, Silvia de los Ríos and Rebeca García Betances
"Covid-19 has demonstrated the divisions between humans inside countries and across regions, age cohorts and ethnic groups, among others, as well as between different countries. At the same time, it also has shown us how all of humanity is in the same situation, faced with an enemy that is not only deadly but that can cripple societies in just a few months. Cooperation has become necessary across all countries, and in fact across the whole world, if we want to successfully return to normality."
"The Gender STI project was launched during the covid-19 era. The pandemic has brought great challenges to the development of science culture. At the same time, it has also provided a new research background and research ideas for Gender STI. The epidemic not only caused harm to the human body, but also posed new challenges to the existing knowledge system, public health system, management capabilities and even cultural structure. Gender STI provides a particular and distinctive point of view, which could observe and solve the problems neglected by other research fields in the covid-19 era."
National Academy of Innovation Strategy
"It has been shown that female scientists posted fewer pre-prints and registered fewer new studies compared to their male colleagues during the pandemic… Since there is evidence that gender inequities have been exacerbated during the covid-19 pandemic, the pandemic may directly impact the participation of women in STI projects all over the world. It will be crucial for the Gender STI project to not only rigorously assess gender equality but also to put forward recommendations to enhance gender equality in the context of a pandemic and other public health crises."
Canadian Institutes of Health Research
Research, strategy development and solutions
Our project aims to analyze the participation of women in science, technology and innovation (STI) dialogues between Europe and third countries.
The project will focus on three key areas:
Gender equality in scientific careers
Gender balance in decision making
The integration of the gender dimension in Research and Innovation (R&I) content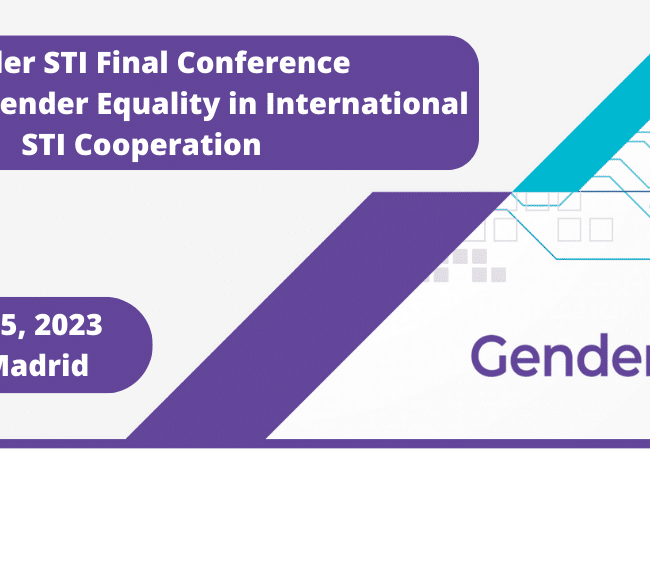 Next October 5 the Gender STI project will host in Madrid, Spain its final conference "Breaking Barriers: Advancing Gender...
Benchmarking report on gender equality in STI dialogues
This deliverable focuses on the integration of gender in international science, technology, and innovation (STI) collaboration and draws lessons from international gender equality and feminist policy principles.
Perspectives on Gender Mainstreaming in International Cooperation in STI
This paper, published in the "International Conference on Gender Research Academic Conferences International Ltd," offers critical insights into gender mainstreaming in international dialogues, which are becoming a tool of change if cultural differences are considered.
Gender STI CoDesign Lab 2
This report presents the prototypes and solutions created by participants of the second edition of Gender STI Co-Design Lab Europe and America to advance gender equality in STI.
Gender STI Co-Design Lab 3
This report presents the prototypes and solutions created by participants of the second edition of the Gender STI Co-Design Lab Europe, Africa & Asia to advance gender equality in STI.
Mapping on gender equality in STI bilateral and multilateral agreements
This interim report introduces two consecutive studies, the pilot study and the main mapping study, aiming to explore how gender equality is addressed in STI related bilateral and multilateral agreements, Memorandum of Understandings (MoUs) and STI implementation activities. These agreements are a formal part of international STI dialogues which is in the main interest of Gender STI project.
Coding Initiative Provides Different Approaches to Inspire Girls for Programming
This research paper is a proceeding of the 30th International Conference on Computers in Education (ICCE), organized by the Asia-Pacific Society for Computers in Education last November 28th 2022. The paper demonstrates a one-week coding initiative with different approaches to encourage 21 teenage girls to program. The results show that the girls' enthusiasm and interest are successfully raised, proving that the girls obtained a fundamental understanding of programming skills and computational thinking.
Overview of gender inequalities in STI agreements between EU and third countries
This report gathers in-depth interviews to key stakeholders aiming to better integrate the gender dimension in international dialogues and cooperation in STI. The information disclosed contains the main barriers and success factors that affect the integration of gender equality in dialogues with third countries in the STI field.
Challenging the Gender Equality norm in STI fields
Abstract presented at the Eu-SPRI 2022 conference "Challenging Science and Innovation Policy", Utrecht, 1-3 June 2022. It explores the arguments and pathways for moving from quantitative gender equality towards qualitative inclusivity in research and innovation content, challenging the gender equality norm in the STI fields.
Gender Equality in STI International Cooperation
Article published in the memoirs of the "XIII Congreso Iberoamericano de Ciencia, Tecnología y Género, Quito-Ecuador, 14 July 2021". It showcases the status of gender equality in International Cooperation and STI.
Gender STI is a project with an international consortium from all corners of the world.
Our partners are from Spain, Finland, Portugal, Austria, France, Italy, Canada, the United States, Mexico, Brazil, Chile, Argentina, South Africa, India, South Korea and China.
Sign up for the European Observatory on Gender in STI Newsletter.
Receive the latest exciting news about Gender STI and support gender equality.
The GENDER STI consortium is committed to ensure the protection of personal data and user privacy. The GENDER STI Privacy Policy aims to inform the public, website visitors and other stakeholders about how we process personal data, based on data protection principles, in accordance with Articles 12, 13, and 14 of the GDPR.

Scope. This Privacy Policy describes how and when GENDER STI — a project that has received funding from the European Union's Horizon 2020 Research and Innovation Programme — collects, uses, and shares your information when you use the GENDER STI website https://www.gender-sti.org/